Pub19 - The Only Dedicated Show for the UK Pub Industry
05- 06 February 2019, Olympia
INDUSTRY PARTNERS
After a fantastic turn-out last year, organisers expect visitor numbers to reach 5000 this year at Olympia.
Indigo Art are proud to be both Industry Partners to this years event, as well as having our own stand at Location E1.
Our items will also be on display around some of the key locations of the event, such as the Entrance Area and the Theatre, where 50 expert Industry Speakers and 20 Seminars will be held over the course of the event.
Register for your free ticket here.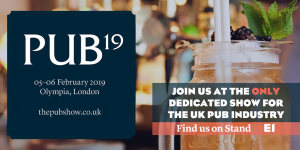 ATTENDEES FROM Pub18…
Punch Taverns / Wetherspoons / Mitchells & Butler / EI Group / Geronimo Inns / Yummy Pub Co. / Greene King / Stonegate / Marston's / Young's / Star Pubs & Bars / Tesco / New World Trading Co. / Shepherd Neame / Charles Wells / Alexandra Palace / Oakman Inns / Fuller's / Pitcher & Piano, plus thousands of independent publicans from across the UK