A look back at Indigo Art's involvement
A review of the Cafe set and NEWH stand
EAT SET COLLABORATION
Working with 3Stories, we provided the framed artwork and mirror ball for their Eat Set, AntiCaff.
Visitors were drawn in by the playful interpretation of the traditional cafe scene. All the materials you would expect to find were swapped out for ironic alternatives, instead of a tiled floor there was carpet; cheap cafe tables were replaced with a single dining table, topped in expensive marble.
The mirrored ball was an oversized interpretation of the bottom of a teaspoon, it also gave an intimate feeling to the space as you huddled under the table below the space it dominated, not to mention calling for an Instagram moment!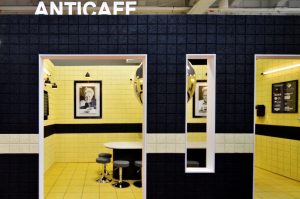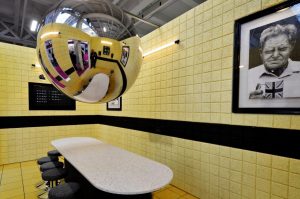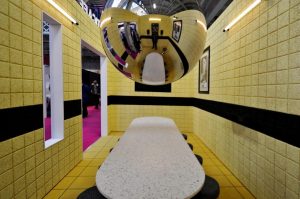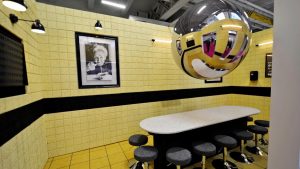 The mirrored ball was constructed from an acrylic sphere which was then spray painted with a polished chrome look paint finish. You can see the original sphere before painting below.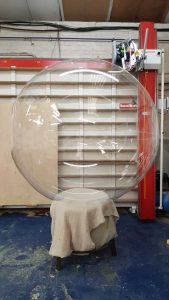 NEWH STAND
As well as the Eat Sets being a new addition to the Exhibition this year, for the first time the NEWH Student competition's finalists displayed their work at Sleep + Eat 2018.
Indigo Art were proud to provide the floral selfie wall, framed artwork and acrylic letters to dress the stand.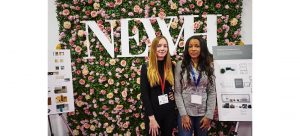 The event was an excellent opportunity for the students to showcase their work in a prestigious setting and get in-front of Industry leaders.
The NEWH organises a mix of events throughout the year, where all the profit goes to supporting students in the Hospitality Industry. The events include Hotel Tours, networking evenings, art classes and more.
If you are interested in becoming a member of the NEWH or supporting one of their events, you can find out more here.