The Strand Palace Hotel, London
April 2019
The Strand Palace Hotel, based in the heart of London, reflects some serious heritage and influence.
Established in 1909, an extensive redevelopment in the 1920's delivered a prestigious building with 900 rooms, and saw it become a showcase for the Art Deco style. The original Art Deco foyer was the main feature of an exhibition by the V&A.
The stunning refurbishment in 2019 by Trevillion Interiors, saw the Rooms and Public Areas transformed to reaffirm the hotel's position within the popular party and culture scenes. The interior dressing showcases its heritage Art Deco style but with a contemporary twist.
On entering the hotel, 2 large contemporary acrylic boxes housing vintage art deco posters reference the local theatre culture. These are presented in a unique origami display of colour graduation, framing the entrance to the Joe Allen Restaurant accessible through the hotel.
For the main Restaurant, a contemporary gallery designed to work within the parameters of precise perpendicular lines found throughout the design, incorporates a mix of images, reflecting London city, the people, and also animals, in a nod to the menagerie previously on the same site.
Tucked within these galleries are keepsakes from the hotel's extensive archive, including the 1909 floorplans and room keys.
Ostentatious botanical illustrations housed in mirrored frames were installed within the new Haxells Restaurant, offering a reference to the original owners, and in keeping with the previously established Garden Restaurant.
Notes from Designers – Trevillion Interiors, working with Indigo Art Ltd.
The Art Deco heritage has influenced the design process and thinking, with the precise lines and geometry central to the original format of Art Deco. Its influences are seen in the colour palettes and glamour, and those elements have been integrated into a more contemporary approach.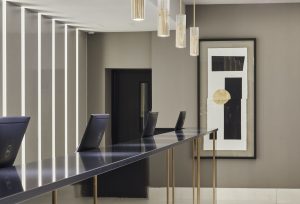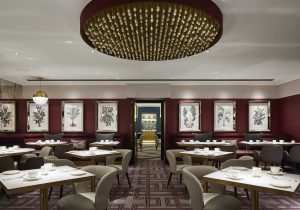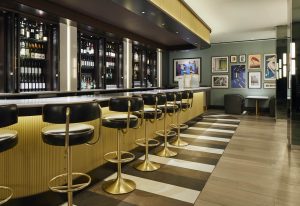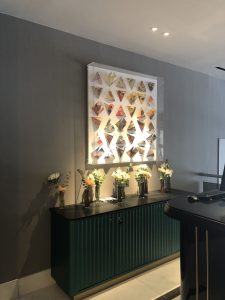 Photography: Mike Caldwell